The Faculty of  Electrical Engineering and Information Technologies  (FEEIT) and Loging Electronics have organized the third workshop for embedded microprocessors systems on 9th and 10th of May 20222. 30 students and 28 professors from nine technical high-schools in Macedonia took part at the event, which are as follows: SUGS ' Vlado Tasevski' Skopje, SOU 'Gjorche Petrov' Kriva Palanka, SOTU 'Gjorgji Naumov' Bitola, SSOU 'Kole Nedelkovski' Veles, SETU 'Mihajlo Pupin' Skopje, OSTU 'Nace Bugjoni' Kumanovo, SOU 'Riste Risteski Richko' Prilep, SOU 'Gjosho Vikentiev' Kochani, SOSU 'Ilinden' Skopje as well as experts from Loging  Electronics and FEEIT professors. The main purpose of the workshop is promotion of electrical engineering and providing technical and professional support for both students and professors at technical high-schools in the country.
In addition, the workshop 'Technology for You' encompassed different activities, which are as follows: experts and scientific lectures on current topics in electrical engineering, competition in embedded microprocessor systems, presentation of high-school projects and latest technology achievements in embedded microprocessor systems.  Regarding the first part of the workshop, the focus was given towards the open education and practical implementation of machine learning and data science in technical high-schools. Furthermore, students participated in competition with emphasis on practical implementation of electric circuits and programming microcontrollers, as well as providing practical solutions by using the equipment donated by Loging Electronics.  Regarding the competition for practical implementation of electrical circuits and programming microcontrollers the results were as follows:
First place – SOTU 'Gjorgji Naumov' – Bitola;
Second place – OSTU 'Nace Bugjoni' – Kumanovo;
Third place – SOSU 'Ilinden'- Skopje.
Also, SSOU 'Kole Nedelkovski' from Veles won the first place as it provided the best presentation for practical solution by using the equipment donated from Loging.
The organization of this event has great significance for FEEIT and for the Professor and Dean of FEEIT, Mr. Dimitar Tashkovski, as the Faculty will always demonstrate its social accountability by providing active support for technical high-schools.  In addition, he emphasized that the goal of the Faculty is to motivate young students to continue their education in the field of electrical engineering, as FEEIT will yield and provide quality education and possibilities for their further professional development. He emphasized: 'The degree/diploma that FEEIT provides to the electrical engineers is internationally recognized, which has been confirmed by our ASIN accreditation of the study programs. The Director of Loging Electronics, Mr. Zlatko Krstevski stated: 'The organization of this workshop is very important to us and our mission, the purpose of which is rising the awareness regarding the application of new technologies in every-day life as well as shaping the student's brain towards creative thinking and their awareness for limitless ways of thinking and furthering their personal potential. As it was the case earlier in Macedonia, we now also want to enable young enthusiasts and engineers to educate themselves by using the latest state-of-the-art technology assisted by qualified mentors. We want to help them become self-assured when it comes to the latest embedded technology, so that they become fully acquainted and that they can do everything with it'.
This year, the workshop for embedded microprocessor systems was organized within the established Fabrication Laboratory at FEEIT (FEEIT-FABLAB) co-financed by the Fund for Innovations and Technological Development. Mr. Zivko Kokolanski, Professor at FEEIT, as a representative of FEEIT-FABLAB said: 'This is one of the many envisaged activities of FEEIT-FABLAB, which will enable young professionals, enthusiasts, and hobbyists, to implement their conceived technical solutions.  The fabrication laboratory at FEEIT is open for everyone and it will be a venue used to inspire creative development and   innovation of young people in the field of electrical engineering'.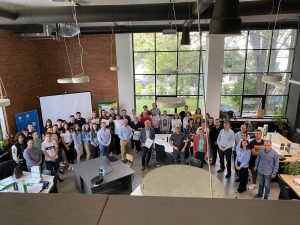 Members of the workshop on embedded microprocessor systems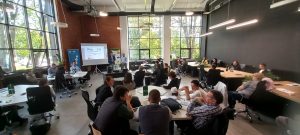 Lecture covering the topic of open education and application of machine learning and data science in technical high-schools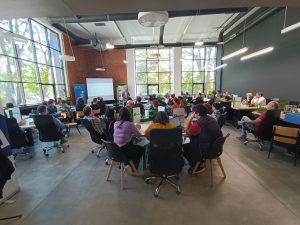 Latest technological achievements in the field of embedded microprocessor systems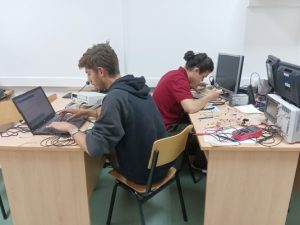 Competition on realization of electrical circuits and programming microcontrollers