The Institute of Power Transmission Systems (IPTS) through its educational, scientific, research and application activities is fostering the subjects of electricity transmission and distribution. Within this framework, it covers all aspects of optimal planning, design and operation of power systems including power system economics as well as high voltage technology and insulation examination.
The history of the IPTS dates back to the time when it was initially established as a Chair for Power Transmission Systems, which was within the frame of the former Institute of Power Engineering founded in 1977. In addition, the Faculty of Electrical Engineering and Information Technology (FEEIT) was established by the separation of the former Faculty of Electrical Engineering and Technology and the Faculty for Mechanical Engineering.
The afore-mentioned Institute of Power Engineering, besides the former Institute of Electronics, was one of the two institutes which were founded following the Faculty's separation. Soon after, originating from the Institute of Power Engineering and the Institute of Electronics, 10 individual Bureaus were established. The Bureau for Power Transmission Systems was one of them, based on which the current IPTS was established.
Since 2019, the Institute team consists of the following active members: prof. Rubin Taleski, Ph.D., prof. Vesna Borozan, Ph.D., Head, prof. Mirko Todorovski, Ph.D.,associate prof. Aleksandra Krkoleva Mateska, Ph.D., assistant prof. Jovica Vuletic, Ph.D., assistant prof. Jordanco Angelov, Ph.D., assistant prof. Petar Krstevski, Ph.D., and Vasko Zdraveski, M.A.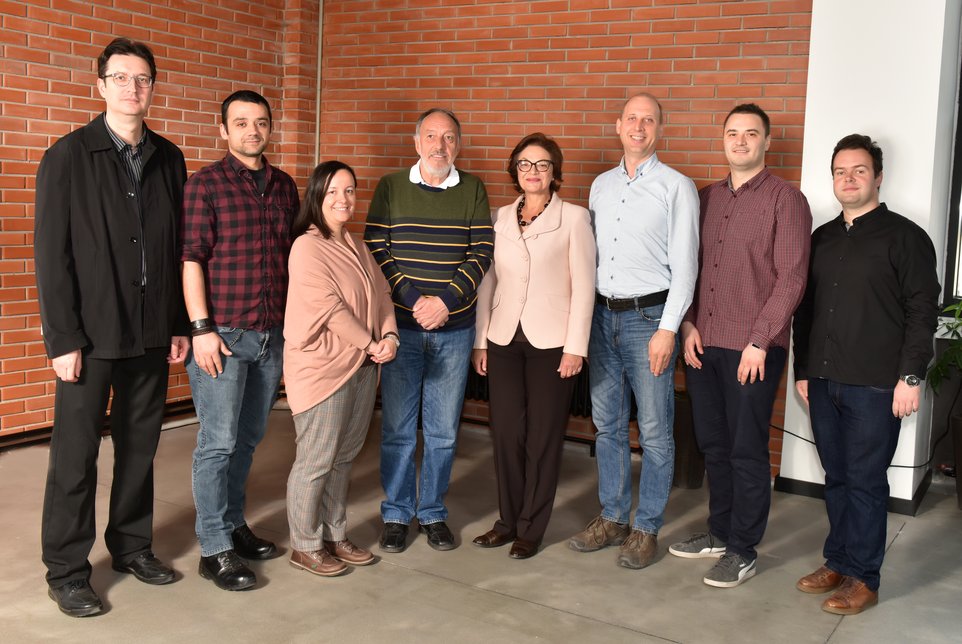 The honored prof. Aleksandar Velickovski, Ph.D., (in memoriam), prof. Dragoslav Rajicic, Ph.D., who was the first graduated engineer from the Department for Electrical and Mechanical Engineering at the Faculty for Technology in 1963, prof. Risto Minovski, Ph.D., prof. Simeon Bliznakovski, Ph.D, prof. Dragomir Arsov, Ph.D, prof. Ljubomir Nikolovski, Ph.D, prof. Vlastimir Glamocanin, Ph.D., prof. Risto Ackovski, Ph.D., Vojislav Jankov, Ph.D., prof. Aleksandar Dimitrovski, Ph.D., Aleksandar Laskov, M.A., and Svetislav Dabeski were also members of the Institute in the past.
It should be emphasized that IPTS development has been marked with continuous upgrading of the curriculum by its members. In the academic 1959/1960 the power systems subjects: electricity transmission, electricity networks, electricity lighting and installations were thought at the Faculty of Technology. Years later, the number of courses on individual matters of power systems was dramatically increased, with IPTS being a major pillar of the development process. 
In the 1970s, the continuous development of the curriculum led to establishment of a new study program – Power Engineering that was well in line with the new achievements in the fields of transmission and distribution systems, containing a few sub- programs: power systems and distribution systems. During that period, a number of subjects have been introduced, including: power system planning and development, overvoltage in power systems, computer for power system analysis, power system control and dispatching, overhead and cable power system lines and distribution systems. Professors from the Chair for Transmission Power Systems also thought a few courses at the newly established study program Power Industry and Automation. In the years to come, additional reforms in the curriculum have been made, which resulted in additional courses within the existing study programs. IPTS professors resumed teaching at both study programs, however, still with increased efforts in the Power Engineering study program.
Latest reforms in higher education introduced the European Credit Transfer System (ECTS). This reform provided for establishment of 4 power modules, so today the staff of the Institute is covering mainly Power Engineering Systems, but also subjects from other power engineering modules.
Nowadays, IPTS professors are responsible for the curriculum on Power Systems – one of the three available study programs in power engineering at the Faculty. The Power Systems study program introduced more than 25 undergraduate study courses. The novelties include courses on power quality, computer methods in power systems, application software in power systems, grounding and grounding systems in power networks, power system economics and electricity markets, computer analysis of transitional processes, steady-state power system computer analysis, etc. In addition, the Institute is providing permanent upgrading of the study program in the second-degree cycle (Master Studies in Power Systems), the purpose of which is exploring contemporary developments in the field and providing new generations of young experts, who will be able to deal with the latest challenges in the power systems sector. With regards to the master degree cycle, which has always been an important part of the educational process, IPTS has fostered 12 new subjects related to the fields of power systems, RES and energy efficiency, economics and respective regulation.
It should be noted that the members of the Institute have always been active in providing study books and other materials for the students, as well as books on transmission and distribution systems intended for the engineers who work in the power systems field. An innovative approach in the teaching practice is of prime importance for the IPTS members. Also, professors from IPTS take great care to provide quality text-books, as well to arrange practical exercises, computer exercises, software tools and applications for the students, so that they would be able to use them even after their graduation. Since quality engineers, who have the necessary know-how in basic computer tools are in demand, thus we strive to teach our students to use these tools in resolving of everyday engineering problems, which they may face later in their careers. Hence, IPTS members have introduced these tools in many of the subjects that they teach. Also, great attention is being paid to the practical laboratory exercises for the purpose of which laboratories for high voltage and electricity markets are being used.
Furthermore, the scientific, research and applied activities represent a very important part in all of IPTS endeavors. Namely, all activities of IPTS are intertwined, as many of the conducted projects are resulting from the cooperation with energy industry companies. This cooperation dates back to the 1970s, and it has resumed successfully to nowadays. Members of our Institute are currently being involved in many projects within the scopes of 'ESM', 'MEPSO' and 'EVN Macedonia', the power system companies which resumed after the restructuring of the former vertically integrated power system utility 'ESM'.
In the implementation of the application projects, the IPTS Laboratory for High Voltage deserves special mention since well above 2000 tests/examinations have been executed for the needs of the power system economy.
Other than preparations for studies, our members are also involved in a number of national and international scientific and research projects. It should be emphasized that they have participated as partners in at least six projects funded by the European Commission within the frame of the FP6 (MoreMicroGrids, RISE), FP7 (SEETSOC), Tempus (CEFES, JADES) и Horizon2020 (CROSSBOW), as well as in two projects financed by the Kingdom of Norway (PX, TEP).
Practical results from numerous studies, projects and established co-operation with the industry have been published at many national and international conferences, such as:  CIGRE, CIRED, MELECON, CEIDP, ICPAD and other conferences which have been supported by IEEE. Also, members of IPTS have published scientific papers in many renowned journals, including: 'IEEE Transactions on Power Systems', 'IEEE Transactions on Power Delivery', 'IEEE Transactions on Energy Conversion', 'Energy', 'Applied Energy' and'European Transactions on Electrical Power'.  It should be noted that IPTS members are active participants of CIGRE Paris – an international conference on power systems via the national CIGRE association, where our members have contributed greatly in its founding and management process. Last but not least, our scientific papers are also published in national publications on energy as well as in the Scientific Journal of the Faculty of Electrical Engineering and Information Technology (FEEIT).