UNICEF and its partners the Association for Assistive Technology "Open the Windows" and the Speech Group from FEEIT, promoted the digital application for augmented and alternative communication Cboard, which they have localised for use in Macedonian and Albanian, and for which they have created a new voice for speech synthesis in Macedonian – the female voice "Suze". The application is designed to help children with communication difficulties and speech disorders communicate and express their needs, feelings and thoughts. The promotion at INNOFEIT was attended by Patrizia DiGiovanni, UNICEF Representative, Jovanka Trenchevska, Minister of Labor and Social Policy, as well as representatives of "Open the Windows" and FEEIT.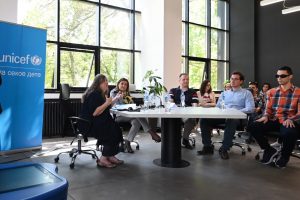 "Communication is at the heart of every human interaction. Children who experience communication challenges can struggle to make themselves understood which can hinder their day-to-day interactions, development, education and social inclusion. With Cboard, children can have a voice, an opportunity to talk, learn and express themselves and a chance to demonstrate what they can do," said Patrizia DiGiovanni, UNICEF Representative. "We encourage parents and teachers to use the tool to help remove barriers that prevent children from taking up their rightful place in the wider community."
"I am especially pleased to be here today to present this digital tool that will be of great importance for promoting the inclusion of children with disabilities from an early age," said Jovanka Trenchevska, Minister of Labour and Social Policy. "The Ministry of Labor and Social Policy will continue with its commitment to advancing the child protection system to enable all children, regardless of their ability, environment, language, education and parental background, to receive comprehensive support to develop their full potential."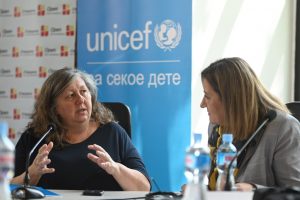 "It was our great honour to be a part of this initiative. Together with our students, we are overwhelmed with joy to have been able to contribute our know-how and work on a system that will improve the lives of people in need. The Speech Group here at FEEIT has a rich tradition and expertise in speech technology, specifically speech synthesis and recognition. We also nurture a fruitful collaboration with "Open the Windows" that has helped our students work on many assistive technology projects. It is through this collaboration that our students created Govorko – a smartphone app for AAC and led to our participation in the localisation of Cboard and the creation of the new TTS voice Suze," said assoc. prof. Branislav Gerazov from FEEIT.
"We are working for already 17 years to make the assistive technology accessible for every child and every person with disability in our society. The tools that we are launching today are the basis of the digital alternative and augmentative communication, which furthermore  will provide an opportunity for hundreds of children and adults with speech impairment express their communication needs," said Kristijan Lazarev, the project coordinator from  "Open the Windows".
Cboard is free software created with the support of the UNICEF Innovation Fund. It can be downloaded for free from Google Play and installed on an Android mobile device or tablet, or accessed directly on the Cboard website. "Open the Windows" has created a detailed guide on using Cboard, as well as for installing the new voice "Suze" that can be used with screen readers.
Cboard can be used to help children and adults with a wide range of speech and language disorders to facilitate their communication by using symbols that are converted to speech. It can be used in a variety of settings, ranging from the child's family and preschools, early intervention centers, schools, resource centers and speech therapy services and can mainly assist in the early childhood development and early inclusion of children with disabilities starting from preschool education onwards.
So far, over 170 professionals including inclusive teams from ten kindergartens, pre-school teachers, speech and language therapists, psychologists, members of the International Classification of Functionalities Committees and special educators have been trained on how to apply alternative and augmentative communication, including Cboard, in the work with children facing communication difficulties, speech and language impairments.  Professionals who tested the application in the pilot phase, reported that the children responded particularly well to the text-to-speech functionality, have improved their vocabulary and were able to start expressing their needs.