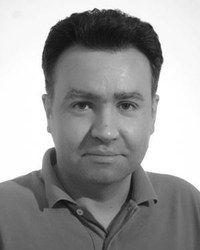 Dr. Zoran Hadzi-Velkov is born in Skopje, Macedonia. He received his Dipl. Ing. (honors), M.Sc. (honors), and Ph.D. degrees in electrical engineering from the Ss. Cyril and Methodius University in Skopje. Since 2008, he holds the position of full professor of telecommunications engineering at the Faculty of Electrical Engineering and Information Technologies at the Ss. Cyril and Methodius University.
     Dr. Hadzi-Velkov has served on the technical program committees of numerous international conferences in

telecommunications

, including the "flagship" conferences, IEEE ICC and IEEE GLOBECOM. He is also a project reviewer for the European Framework Programs and the Science Fund of Serbia.
From January 2012 to April 2016, he has served as the Editor for one of the most prestigious international journals in telecommunications, IEEE Communications Letters (IF: 3,419).
I

n recognition to his research contributions,

Dr. Hadzi-Velkov was awarded the Humboldt Fellowship for Experienced Researchers by the "Alexander von Humboldt" Foundation

in 2012

. He was bestowed the 2013 Scientist of the Year award by the Ss. Cyril and Methodius University.
Upon the recommendation of the German National Academy of Sciences "Leopoldina", Dr. Hadzi-Velkov is the Macedonian representative from the ranks of prominent scientists in the scientific segment of the Berlin Process, which prepares recommendations for harmonization of higher education and science in the Western Balkans

countries

with the European Union.
   From April 2012 to December 2015, Dr. Hadzi-Velkov was the Chair of Macedonian Chapter of the IEEE Communications Society. His research interests include communications theory, wireless communications, wireless powered communications, energy efficient communications, and cooperative communications.
Humboldt Fellowship for Experienced Researchers, awarded by the "Alexander von Humboldt" foundation in recognition for an important contribution to science (2012);


Grant for establishment of research group, awarded by the "Alexander von Humboldt" foundation (2014);

Best scientist of the year of the

St. Cyril and Methodius 

University (2013);
Chapter Achievement Award for the region of Europe, Middle East and Africa, bestowed to the Macedonian Chapter of the IEEE Communications Society (2014);

Reviewer and editor of over 350 research papers in SCI journals with impact factor

Editor for one of the most prestigious international journals for telecommunications, IEEE Communications Letters (IF: 3,457), from 2012 to 2016

Editor for ITU Journal of Future and Evolving Technologies 
Guest editor of Special issue on Emerging trends and applications in future communication networks of ITU Journal of Future and Evolving Technologies (Vol. 3, Issue 9) 

Member of the technical program committee of numerous telecommunications conferences, such as: IEEE VTC 2013, IEEE VTC 2015, IEEE ICC 2013, IEEE ICC 2014, IEEE GLOBECOM 2015, IEEE ICC 2015, IEEE GLOBECOM 2016, IEEE ICC 2016, IEEE GLOBECOM 2017, IEEE ICC 2017, IEEE GLOBECOM 2018, IEEE ICC 2018, IEEE GLOBECOM 2019, IEEE ICC 2019, IEEE ICC 2020

Chair of the Macedonian Chapter of the IEEE Communications Society, from 2012-2015. Promotional article published by the IEEE Communications Magazine is available here 

Address delivered at the Western Balkans summit in Berlin, as a distinguished expert, upon personal invitation of German Chancellor, August 2014 

Address delivered at the 1st Joint Science Conference of the Berlin Process, as distinguished scientist from Macedonia, upon personal invitation by the President of the German National Academy of Science "Leopoldina", June 2015 

Address delivered at the 3rd Joint Science Conference of the Berlin Process, as distinguished scientist from Macedonia, upon personal invitation by the President of the French Academy of Science, May 2017, link

Address delivered at the 4th Joint Science Conference of the Berlin Process, as distinguished scientist from Macedonia, upon personal invitation by the President of the Italian Academy of Science Lincei, May 2018


Lecture "Young Scholars as the Driving Force of Society (a broader view)" at the conference Humboldt Kolleg Ohrid, April 2018 

Lecture "State of affairs with the Scientific Research in the Western Balkans" at the conference Balkancom, Podgorica, June 2018  

Lecture "Role of University for the Western Balkans Smart Growth" at conference Humboldt Kolleg Belgrade, September 2018 

Lecture "Effect of University Research on Innovation in Balkan Countries: Facts and Figures" at conference Humboldt Kolleg Varna, September 2019

Lecture "Challenges of the Macedonian Universities on the path to Europe Research Area" at the workshop "State of affairs with the university research and innovation in WBC" , Skopje, November 2019, линк 
Paper "Macedonian universities on the Shanghai ranking list: what we have done so far and what we should do from now on?", Proceedings of the Solemn Scientific Meeting "The modern Macedonian state – two stages in the process of its formation and development: 1941-1991/1991-2021", Macedonian Academy of Sciences and Arts, 27-28 Sept. 2021, available at https://doi.org/10.5281/zenodo.7081395
Former Master and Doctoral Students 
Dr. Nikola Zlatanov, Assistant Professor at the Monash University, Melbourne, Australia (world's top university), link 
Dr. Katina Kralevska, Associate Professor at the Norwegian university of science and technology, Trondheim, Norway (world's top university), link
Dr. Jovan Stosic, Assistant Professor, University "Goce Delchev", Stip, Macedonia

Dr. Ivana Nikoloska, Researcher at King's College London, UK (world's top university), link 
Z. Hadzi-Velkov, S. Pejoski and Nikola Zlatanov, "Achieving near ideal covertness in NOMA systems with channel inversion power control," IEEE Communications Letters, accepted, July 2022, early access (IF: 3,553)

S. Pejoski, Z. Hadzi-Velkov and N. Zlatanov, "Full-duplex covert communications assisted by intelligent reflective surfaces," IEEE Communications Letters, accepted, Sept 2022, early access (IF: 3,553) 
M. Poposka and Z. Hadzi-Velkov, "Binary vs partial offloading in wireless powered mobile edge computing systems with fairness guarantees", ITU Journal on Future and Evolving Technologies, vol. 3, Issue 2, pp. 498-507, Sept 2022, available here 
S. Pejoski, Z. Hadzi-Velkov, T. Shuminoski, "Lyapunov drift-plus-penalty based resource allocation in IRS-assisted wireless networks with RF energy harvesting," Radioengineering, vol. 31, no. 3, pp. 382-389, Sept. 2022 (IF: 1,075) 
Z. Hadzi-Velkov, S. Pejoski, N. Zlatanov and H. Gačanin, "Designing wireless powered networks assisted by intelligent reflecting surfaces with mechanical tilt," IEEE Communications Letters, vol. 25, no. 10, pp. 3355-3359, Oct. 2021, accepted, available on arXiv, link  
Z. Hadzi-Velkov, S. Pejoski, N. Zlatanov and R. Schober, "UAV-assisted wireless powered relay networks with cyclical NOMA-TDMA," IEEE Wireless Communications Letters, vol. 9, no. 12, pp. 2088-2092, Dec.  2020 
M. Poposka, Z. Hadzi-Velkov, and S. Pejoski, "Fairness optimization of fixed-rate wireless networks with RF energy harvesting transmitters," IEEE Communications Letters, vol. 24, no. 12, pp. 2859-2863, Dec. 2020 (IF: 3,419)
S. Pejoski, and Z. Hadzi-Velkov, "Slotted ALOHA wireless networks with RF energy harvesting in Nakagami-m fading," Elsevier Ad Hoc Networks, vol. 107, pp: 102235, 2020 (IF: 3,643)
Z. Hadzi-Velkov, S. Pejoski, R. Schober and N. Zlatanov, "Wireless powered ALOHA networks with UAV-mounted base stations," IEEE Wireless Communications Letters, vol. 9, no. 1, pp. 56-60, Jan. 2020 (IF: 4,65)
I. Nikoloska, N. Zlatanov, Z. Hadzi-Velkov and R. Zhang, "On the secrecy capacity of a full-duplex wirelessly powered communication system," IEEE Transactions on Wireless Communications, vol. 18, no. 11, pp. 5424-5439, Nov. 2019 (IF: 6,779)

Z. Hadzi-Velkov, S. Pejoski, N. Zlatanov, and R. Schober, "Proportional fairness in ALOHA networks with RF energy harvesting", IEEE Wireless Communications Letters, vol. 8, no. 1, pp: 277-280, Feb. 2019 (IF: 4,65)

I. Nikoloska, N. Zlatanov, and Z. Hadzi-Velkov, "Capacity of a full-duplex wirelessly powered communication system with self-interference and processing cost", IEEE Transactions on Wireless Communications, vol. 17, no. 11, pp: 6748-7659, Nov. 2018 (IF: 6,779)

S. Pejoski, Z. Hadzi-Velkov, and R. Schober, "Optimal power and time allocation for WPCNs with piece-wise linear EH model", IEEE Wireless Communications Letters, vol. 7, no. 3, pp. 364-367, March 2018 (IF: 4,65), available here

F. Zhao, H. Lin, C. Zhong, Z. Hadzi-Velkov, G. K. Karagiannidis, and Z. Zhang, "On the capacity of wireless powered communication systems over Rician fading channels", IEEE Transactions on Communications, vol. 66, no. 1, pp. 404-417, Jan. 2018 (IF: 5,64)

N. Zlatanov, R. Schober, and Z. Hadzi-Velkov, "Asymptotically Optimal Power Allocation for Energy Harvesting Communication Networks", IEEE Transactions on Vehicular Technology, vol. 66, no. 8, pp. 7286-7301, Aug. 2017, available here 
Z. Hadzi-Velkov, I. Nikoloska, H. Chingoska, and N. Zlatanov, "Opportunistic scheduling in wireless powered communication networks," IEEE Transactions on Wireless Communications, vol. 16, no. 6, pp. 4106-4119, June 2017
S. Pejoski, Z. Hadzi-Velkov, T. Q. Duong, and C. Zhong, "Wireless powered communication networks with non-ideal circuit power consumption," IEEE Communications Letters, vol. 21, no. 6, pp. 1429-1432, June 2017 (IF: 3,457), available here

I. Nikoloska, Z. Hadzi-Velkov, and H. Chingoska, "Rate maximization in wireless powered communication systems with non-ideal circuit power consumption," Microwave review, vol. 22, no. 2, pp. 16-20, Dec. 2016, available here
H. Chingoska, Z. Hadzi-Velkov, I. Nikoloska, and N. Zlatanov, "Resource Allocation in Wireless Powered Communication Networks with Non-Orthogonal Multiple Access", IEEE Wireless Communications Letters, vol. 5, no. 6, pp: 684-687, Dec. 2016, Accepted
Z. Hadzi-Velkov, I. Nikoloska, H. Chingoska, and N. Zlatanov, "Proportional Fair Scheduling in Wireless Networks With RF Energy Harvesting and Processing Cost", IEEE Communications Letters, vol. 20, no. 10, pp: 2107-2110, Oct. 2016
J. Stosic, and Z. Hadzi-Velkov, "Performance Analysis of Decouple-and-Forward MIMO Relay Systems in Rayleigh Fading", AEU – International Journal of Electronics and Communications, vol. 70, pp: 1259-1267, Sept. 2016
N.-P. Nguyen, T.Q. Duong, H.Q. Ngo, Z. Hadzi-Velkov, and L. Shu, "Secure 5G Wireless Communications: A Joint Relay Selection and Wireless Power Transfer Approach", IEEE Access, vol. 4, pp: 3349-3359, 2016
Z. Hadzi-Velkov, I. Nikoloska, G. K. Karagiannidis, and T. Q. Duong, "Wireless Networks with Energy Harvesting and Power Transfer: Joint Power and Time Allocation", IEEE Signal Processing Letters, vol. 23, no. 1, pp: 50-54, Jan. 2016, available here
Z. Hadzi-Velkov, N. Zlatanov, T. Q. Duong, and R. Schober, "Rate Maximization of Decode-and-Forward Relaying Systems with RF Energy Harvesting", IEEE Communications Letters, vol. 19, no. 12, pp: 2290-2293, Dec. 2015, available here
Z. Hadzi-Velkov, N. Zlatanov, and R. Schober, "Multiple-access fading channel with wireless power transfer and energy harvesting", IEEE Communications Letters, vol. 18, no. 10, pp: 1863-1865, October 2014, available here
J. Stosic, and Z. Hadzi-Velkov, "Simple tight approximations of the error performance for dual-hop MIMO relay systems in Rayleigh fading", AEÜE International Journal of Electronics and Communications, vol. 67, vo. 10, pp: 854-860, October 2013
Z. Hadzi-Velkov, D. S. Michalopoulos, G. K. Karagiannidis, and Robert Schober, "On the Effect of Outdated Channel Estimation in Variable Gain Relaying: Error Performance and PAPR", IEEE Transactions on Wireless Communications, vol. 12, No. 3, pp: 1084-1097, March 2013
N. Zlatanov, Z. Hadzi-Velkov, G. K. Karagiannidis, and R. Schober, "Cooperative Diversity With Mobile Nodes: Capacity Outage Rate and Duration", IEEE Transactions on Information Theory, vol. 57, No. 10, October 2011, available here
Z. Hadzi-Velkov and N. Zlatanov "Outage Rates and Outage Durations of Opportunistic Relaying Systems", IEEE Communications Letters, Vol. 14 , No. 2, February 2010, pp: 148 – 150, available here
N. Zlatanov, Z. Hadzi-Velkov, and G. K. Karagiannidis, "An Efficient Approximation to the Correlated Nakagami-m Sums and its Application in Equal Gain Diversity Receivers," IEEE Transactions On Wireless Communications, Vol. 9, No.1, January 2010, pp: 302-310, available here
Z. Hadzi-Velkov, N. Zlatanov, G. K. Karagiannidis, "On the Second Order Statistics of the Multihop Rayleigh Fading Channel", IEEE Transactions On Communications, Vol. 57, No. 6, June 2009, pp. 1815-1823, available here
N. Zlatanov, Z. Hadzi-Velkov, G.K. Karagiannidis, "Level Crossing Rate and Average Fade Duration of the Double Nakagami-m Random Process and Application in MIMO Keyhole Fading Channels", IEEE Communications Letters, Vol. 12, No. 11, Nov. 2008, pp. 822-824, available here
Z. Hadzi-Velkov, "Level Crossing Rate and Average Fade Duration of EGC Systems With Cochannel Interference in Rayleigh Fading", IEEE Transactions On Communications, Vol. 55, No. 11, Nov. 2007, pp. 2104 – 2113, available here 
Z. Hadzi-Velkov, "Level Crossing Rate and Average Fade Duration of Dual Selection Combining With Cochannel Interference and Nakagami Fading", IEEE Transactions On Wireless Communications, Vol. 6, No. 11, Nov. 2007, pp. 3870 – 3876, available here
Z. Hadzi-Velkov, "Level Crossing Rate and Average Fade Duration of Selection Diversity With Rician-Faded Cochannel Interferers", IEEE Communications Letters, Vol. 10, No. 9, Sept. 2006, pp. 649 – 651
Z. Hadzi-Velkov, B. Spasenovski and Z. Nikolic, "Capture Effect in Wireless LANs with RAKE Reception of DSSS/DPSK Signals", AEU – International Journal of Electronics and Communications, Vol. 60, No. 3, March 2006, pp. 199 – 207
Z. Hadzi-Velkov and B. Spasenovski, "On the Capacity of IEEE 802.11 DCF with Capture in Multipath-faded Channels", International Journal of Wireless Information Networks, Kluwer Academic, Vol. 9, No. 3, July 2002, pp. 191–199
Z. Hadzi-Velkov and B. Spasenovski, "On the Influence of Correlated Rayleigh-Fading channel with Capture over IEEE 802.11 WLANs", Journal Telecommunications, Vol. 49, No. 4. December 2001, pp. 18–22
Z. Hadzi-Velkov and L. Gavrilovska, "Performance of the IEEE 802.11 Wireless LANs and Influence of Hidden Terminals", Facta Universitatis, Series: Electronics and Energetics, vol. 13, No. 1, April 2000, pp. 39–49

Book Chapters

Z. Hadzi-Velkov, S. Pejoski, and N. Zlatanov, "Fairness-aware wireless powered communications with processing cost", Chapter 7, Book: Wireless Information and Power Transfer: Theory and Practice, Wiley-IEEE Press, ISBN: 978-1-119-47679-5, Jan. 2019
N. Zlatanov, Z. Hadzi-Velkov, and D.W.K. Ng, "Asymptotically optimal power allocation for wireless powered communication network with non-orthogonal multiple access", Chapter 10, Book: Wireless Power Transfer Algorithms, Technologies and Applications in Ad hoc Communication Networks, Springer, ISBN: 978-3-319-46810-5, Nov. 2016
M. Poposka, Z. Hadzi-Velkov and S. Pejoski, "A practical protocol for wireless powered communications," Proc. 2019 14th International Conference on Advanced Technologies, Systems and Services in Telecommunications (TELSIKS), Nis, Serbia, 2019 

I. Nikoloska, N. Zlatanov, Z. Hadzi-Velkov and R. Zhang, "On the secrecy capacity of a full-duplex wirelessly powered communication system," 2019 16th International Symposium on Wireless Communication Systems (ISWCS), Oulu, Finland, 2019, pp. 577-581

I. Nikoloska, N. Zlatanov, and Z. Hadzi-Velkov, "On the capacity of a full-duplex wirelessly powered communication system with self-interference and processing cost", Proc. IEEE International Conference on Communications (ICC 2018), 20 – 24 May 2018, Kansas City, USA

F. Zhao, H. Lin, C. Zhong, Z. Hadzi-Velkov, G. K. Karagiannidis, and Z. Zhang, "Capacity of wireless powered communication systems over Rician fading channels", Proc. The Ninth International Conference on Wireless Communications and Signal Processing (WCSP 2017), 11 – 13 October, 2017, Nanjing, China

A. Ichkov, I. Nikoloska, Z. Hadzi-Velkov, and L. Gavrilovska, "Uplink successful transmission probability in energy-harvesting cellular networks", Proc. IEEE Consumer Communications and Networking Conference 2017 (IEEE CCNC 2017), 8 – 11 Jan. 2017, Las Vegas, USA

N.-P. Nguyen, Y. Huang, T.Q. Duong, Z. Hadzi-Velkov, and B. Canberk, "Secure wireless communications with relay selection and Wireless powered transfer", Proc. EUSIPCO 2016, 29 Aug – 2 Sept 2016, Budapest, Hungary

H. Chingoska, I. Nikoloska, Z. Hadzi-Velkov, and N. Zlatanov, "Proportional fair scheduling in wireless powered communication networks", Proc. 2016 23rd International Conference on Telecommunications (ICT 2016), Thessaloniki, Greece, 16-18 May 2016

I. Nikoloska, Z. Hadzi-Velkov, and H. Cingoska, "Performance of communication systems with RF energy-harvesting and processing cost",Proc. Telsiks 2015, Nis, Serbia, 14-17 October 2015

J. Stosic, and Z. Hadzi-Velkov, "Outage Probability of Dual-Hop MIMO Relay Systems with Direct Links", Proc. First International Conference Faboulos 2015 (Springer proceedings), Ohrid, Macedonia, 23-25 Sept. 2015

I. Nikoloska, Z. Hadzi-Velkov, and H. Cingoska, "Resource Allocation in Energy Harvesting Communication Systems", Proc. First International Conference Faboulos 2015(Springer proceedings), Ohrid, Macedonia, 23-25 Sept. 2015

I. Nikoloska, Z. Hadzi-Velkov, and H. Cingoska, "Throughput maximization in Energy Harvesting Communication Systems", Proc. ETAI 2015, Ohrid, Macedonia, Sept. 2015

H. Cingoska, Z. Hadzi-Velkov, I. Nikoloska, "Simultaneous information and power transfer systems in co-channel interference", Proc. ETAI 2015, Ohrid, Macedonia, Sept. 2015

V. Rakovic, D. Denkovski, Z. Hadzi-Velkov, L. Gavrilovska, "Optimal Time Sharing in Underlay Cognitive Radio Systems with RF Energy Harvesting", Proc. IEEE ICC 2015, London, UK, 8-12 June 2015, available on arXiv here

Z. Hadzi-Velkov, N. Zlatanov, and R. Schober, "Optimal Power Control for Analog Bidirectional Relaying with Long-Term Relay Power Constraint", Proc. IEEE GLOBECOM 2013, Atlanta, GA, USA, 9-13 December 2013, available on arXiv here

N. Zlatanov, Z. Hadzi-Velkov, and R. Schober, "Asymptotically Optimal Power Allocation for Point-to-Point Energy Harvesting Communication Systems", Proc. IEEE GLOBECOM 2013, Atlanta, GA, USA, 9-13 December 2013, available here

J. Stosic, and Z. Hadzi-Velkov, "Outage Probability Approximations for Dual-Hop Amplify-and-Forward MIMO Relay Systems in Rayleigh Fading", Proc. 11th International Conference on Telecommunications in Modern Satellite, Cable and Broadcasting Services (TELSIKS 2013), Nis, Serbia, 16-19 October 2013

J. Stosic and Z. Hadzi-Velkov, "Approximate Performance Analysis of Dual-hop Decouple-and-Forward MIMO Relaying", Proc. XI International Conference ETAI 2013, Охрид, Македонија, 26-28 September 2013

Z. Hadzi-Velkov, N. Zlatanov, and R. Schober, "Optimal Power Allocation for Three-phase Bidirectional DF Relaying with Fixed Rates", Proc. The Tenth International Symposium on Wireless Communication Systems (ISWCS 2013), invited paper, Ilmenau, Germany, 27-30 August 2013, available here

D. S. Michalopoulos, Z. Hadzi-Velkov, G. K. Karagiannidis, and R. Schober, "PAPR of Variable-Gain and Fixed-Gain Amplify and Forward Relaying", Proc. 9th International ITG Conference on Systems, Communications and Coding, Munich, Germany, 21-24 January 2013

Z. Hadzi-Velkov, D. S. Michalopoulos, G. K. Karagiannidis, and R. Schober, "Dual-hop amplify-and-forward transmission with imperfect channel estimates at the relay", Proc. IEEE Communications on Conference (ICC 2012), Ottawa, Canada, June 2012

K. Smiljkovic and Z. Hadzi-Velkov, "Asymptotic Performance of Dual-hop Non-regenerative Cooperative Systems With or Without Direct Path", Proc. Eighth International Symposium on Wireless Communication Systems (ISWCS 2011), Aachen, Germany, Nov. 2011

N. Zlatanov, Z. Hadzi-Velkov, G. K. Karagiannidis, and R. Schober, "Outage Rate and Outage Duration of Decode-and-Forward Cooperative Diversity Systems", Proc.IEEE International Conference on Communications (ICC 2011), Kyoto, Japan, June 2011

N. Zlatanov, R. Schober, G. K. Karagiannidis, and Z. Hadzi-Velkov, "Average outage and non-outage duration of selective decode-and-forward relaying", Proc.12th Canadian Workshop on Information Theory (CWIT), Kelowna, Canada, May 2011

T. A. Tsiftsis, Z. Hadzi-Velkov, G. K Karagiannidis and N. Zlatanov, "Relaying utilization metrics of diamond cooperative diversity systems", Proc.IEEE 5th International Symposium on Wireless Pervasive Computing, Modena, Italy, May 2010

Z. Hadzi-Velkov, N. Zlatanov, G. K. Karagiannidis, "An Accurate Approximation to the Distribution of the Sum of Equally Correlated Nakagami-m Envelopes and its Application in Equal Gain Diversity Receivers", Proc. IEEE International Conference on Communications 2009 (ICC 2009), Dresden, Germany, 14-18 June, 2009, available here

Z. Hadzi-Velkov, N. Zlatanov, G. K. Karagiannidis, "Level Crossing Rate and Average Fade Duration of the Multihop Fading Channels", Proc. IEEE International Conference on Communications 2008 (ICC 2008), Beijing, China, 19-23 May, 2008, available here

Z. Hadzi-Velkov, "Second-Order Statistics of Selection Combining Systems with Cochannel Interference in Various Fading Channels", Proc. IEEE 18th International Symposium on Personal, Indoor and Mobile Radio Communications 2007 (PIMRC 2007), Athens, Greece, 3-7 Sept. 2007

P. Latkoski, Z. Hadzi-Velkov, B. Popovski, "Extended Model for Performance Analysis of Non-Saturated IEEE 802.11 DCF in Erroneous Channel", Proc. IEEE International Conference on Mobile Adhoc and Sensor Systems 2006 (MASS 2006), Vancouver, Canada, 9-12 Oct. 2006

Z. B. Nikolic, Z. Hadzi-Velkov, B. Dimitrijevic, N.D. Milosevic, "Interference Rejection in UWB Radio System Using Adaptive Transversal Filter", Proc. IEEE International Conference on Computer as a Tool 2005 (EUROCON 2005), Vol. 1, Belgrade, Serbia, 22-24 Nov. 2005

P. Latkoski, Z. Hadzi-Velkov, B. Popovski, "Performance Analysis of IEEE 802.11a WLAN in Block Fading Channel using SDL Simulation", Proc. 7th International Conference on Telecommunications in Modern Satellite, Cable and Broadcasting Services 2005 (TELSIKS 2005), Nis, Serbia, 28-30 Sept. 2005

Z. Hadzi-Velkov, Z. Nikolic, N. Milosevic, B. Dimitrijevic, "Capture Models for Generalized Fading Channels", Proc. 7th International Conference on Telecommunications in Modern Satellite, Cable and Broadcasting Services 2005 (TELSIKS 2005), Nis, Serbia, 28-30 Sept. 2005

Z. Hadzi-Velkov and B. Spasenovski, "Capture Effect with Diversity in IEEE 802.11b DCF", Proc. Eight IEEE International Symposium on Computers and Communications 2003 (ISCC 2003), June 30 – July 3, 2003, Antalya, Turkey

Z. Hadzi-Velkov and B. Spasenovski, "Saturation Throughput – Delay Analysis of IEEE 802.11 DCF in Fading Channel", Proc. IEEE International Conference on Communications 2003 (ICC 2003), 11–15 May, 2003, Anchorage, Alaska, USA, available on arXiv here

Z. Hadzi-Velkov and B. Spasenovski, "An Analysis of CSMA/CA Protocol with Capture in Wireless LANs", Proc. IEEE Wireless Communication and Networking Conference 2003 (WCNC 2003), 16–29 March, 2003 in New Orleans, Louisiana, USA

Z. Hadzi-Velkov and B. Spasenovski, "Analysis of Throughput and Spatial Fairness of IEEE 802.11b DCF with Capture", Proc. IASTED International Conference on Communications and Computer Networks 2002 (CCN 2002), 4–6 November, 2002, MIT, Cambridge, USA

Z. Hadzi-Velkov and B. Spasenovski, "Capture Effect in IEEE 802.11 Basic Service Area under Influence of Rayleigh Fading and Near/Far Effect", Proc. IEEE International Symposium on Personal, Indoor and Mobile Radio Communications (PIMRC 2002), 15–18 September, 2002, Lisboa, Portugal

Z. Hadzi-Velkov and B. Spasenovski, "Influence of Hidden Stations and Capture Effect over IEEE 802.11b Distributed Coordination Function", Proc. IEEE Networks 2002 (Joint IEEE International Conference on Wireless LANs, PANs and Home Networks ICWLHN 2002 & ICN 2002), 26–29 August, 2002, Atlanta, GA, USA

Z. Hadzi-Velkov and B. Spasenovski, "Capture Effect in IEEE 802.11 WLANs", Proc. IEEE International Conference on Wireless LANs, PANs and Home Networks (ICWLHN 2001), 5–7 December, 2001, Singapore

Z. Hadzi-Velkov and B. Spasenovski, "On the Influence of Correlated Rayleigh-Fading channel with Capture over IEEE 802.11 WLANs", Proc. IEEE 5th International Conference on Telecommunications in Modern Satellite, Cable and Broadcasting Services (TELSIKS 2001), 19–21 September, 2001, Nis, Yugoslavia

Z. Hadzi-Velkov and B. Spasenovski, "IEEE 802.11 DCF with Capture over Rician-Fading Channel", Proc. The Third IEEE Workshop on Wireless Local Area Networks, 27–28 September 2001, Boston, USA

Z. Hadzi-Velkov and B. Spasenovski, "The Influence of Flat Rayleigh-Fading Channel with Hidden Terminals and Capture over the IEEE 802.11 WLANs", Proc. IEEE Semiannual Vehicular Technology Conference (VTC 2001 Fall), 7–11 October, 2001, Atlantic City, NJ, USA

Z. Hadzi-Velkov and B. Spasenovski, "IEEE 802.11 Distributed Coordination Function over Flat-Fading Radio Channel", Proc. 10th Aachen Symposium Signal Theory (ASST), 20–21 September, 2001, Aachen, Germany

Z. Hadzi-Velkov and B. Spasenovski, "Performance Comparison of IEEE 802.11 and ETHI Hiperlan type 1 under Influence of Burst-Noise Channel", Proc. IEEE Wireless Communications and Networking Conference (WCNC 2000), Chicago, IL, USA, September 23-28, 2000

Z. Hadzi-Velkov and B. Spasenovski, "IEEE 802.11 and ETSI HIPERLAN type 1 under Influence of Burst-Noise Channel", Proc. IEEE IEEE Vehicular Technology Conference (VTC 2000 Fall), Boston, MA, USA September 24-28, 2000

Projects 
— International research project "Wireless powered communications networks", funded by Alexander von Humboldt Foundation, realization period: from 1 January 2017, Project partner: Friedrich–Alexander University Erlangen–Nürnberg , Germany, Local coordinator: Zoran Hadzi-Velkov 

— Bilateral (Macedonian-Chinese) research project "Energy efficiency of wireless powered communication networks", realization period: from 1 January 2016, Project partner: Zhejiang University (C9 league of universities), PR China, Principal investigator: Zoran Hadzi-Velkov 

— National research project "Cooperative diversity over fading channels", funded by Ministry of Education and Science of Macedonia, realization period: 1 October 2010, Principal investigator: Zoran Hadzi-Velkov 
Teaching (courses)

Fundamentals of Telecommunications (4 semester, mandatory)

Introduction to Telecommunications (5 semester, mandatory)

Wireless Channels (5 semester, mandatory)

Simulation Methods for  Communications (5 semester)

Energy Efficient Wireless Systems (Master curriculum, mandatory)

Convex Optimization with Applications (Master curriculum)

Cooperative Communications (Master curriculum)

Advanced Radio Mobile Communications (PhD curriculum)

Stochastic Modeling, Simulation and Analysis (PhD curriculum)

Applied Mathematical Optimization (PhD curriculum)
News
14 March 2011: Nikola Zlatanov is awarded  "Young Scientist of the Year Award", bestowed by the President of R. Macedonia. Prof. Hadzi-Velkov is the supervisor of Nikola Zlatanov for his Bachelor Thesis and Master Thesis in the filed of Wireless Communications 

1 August 2012: Dr. Zoran Hadzi-Velkov has received the Humboldt Fellowship for Experienced Researchers. The fellowship is bestowed by the Alexander von Humboldt Foundation for contributions in all fields of science 

6 February 2014: Dr. Zoran Hadzi-Velkov has received "Scientist of the Year Award" bestowed by the Ss. Cyril and Methodius University in Skopje 

11 June 2015: Dr. Nikola Zlatanov has been appointed an assistant professor at the Monash University in Australia. Nikola Zlatanov has defended his Bachelor Thesis and his Master Thesis under supervision of Prof. Zoran Hadzi-Velkov