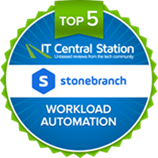 Stonebranch builds dynamic IT automation solutions that transform business IT environments from simple IT task automation into sophisticated, real-time business service automation, helping organizations achieve the highest possible Return on Automation. No matter the degree of automation, Stonebranch software is simple, modern and secure. Using its universal automation platform, enterprises can seamlessly orchestrate workloads and data across technology ecosystems and silos. Headquartered in Alpharetta, Georgia with points of contact and support throughout the Americas, Europe, and Asia, Stonebranch serves some of the world's largest financial, manufacturing, healthcare, travel, transportation, energy, and technology institutions.
The candidate will join our office in Skopje, North Macedonia, a DevOps and Digital-Services lab focused on Telco operational needs and in creating innovative value-added solutions based on Stonebranch IT Automation tools and open-source frameworks.
Your Part in this Growth Story:
Stonebranch is searching for a Senior Application Engineer who's interested in designing and building amazing and impactful solutions for our customers by being always a creative thinker, self-motivated and passionate in continuous learning.
The position is best suited for a professional with technical background, that has a successful track record in designing/understanding end-to-end solutions from both high & low-level perspectives, ensuring always high quality and timely delivery for our software development projects.
Your Impact on The Organization:
The Senior Application Engineer is responsible for:
Application operation and development of systems in Business Supporting Domain (BSS)
Support of system interfaces in the BSS Domain
Execution of monthly closing activities in the BSCS Domain
Provide second level support and resolve incidents of the BSS End Users
Actively participate in implementation of new versions of the systems in the domain
Prepare and update technical documentation
What You Will Bring to the Team:
BS/MS degree in Science, Technology, Engineering and Mathematics (STEM)
Strong command of English, both written and verbal
Experience in applying solid IT expertise in application operation and maintenance
Experience in working with DB (SQL, PL/SQL Oracle)
Familiar with UNIX/Shell Scripting
Why You'll Love Stonebranch:
Competitive compensation
Great company culture
Regular social events
Work in a young, motivated, experienced and international team of top performers
Continuous professional development and development
Mobile phone
If you are interested in this position, please send your CV to hr@stonebranch.com.
We are an Equal Opportunity Employer and do not discriminate against applicants due to race, ethnicity, gender, veteran status, or on the basis of disability or any other federal, state or local protected class.